NH-SENKO was found by the joint partnership of Niigata UNYU, one of the best freight transportation companies from Japan, Hwa-Sung Express, a well-known local transportation company in Korea, and Senko Group Holdings renown for 100 years of prominent history in Total Logistics Business from Japan; three of the most experienced logistics companies with long history and accumulated know-hows.
NH-SENKO Logistics Center provides practical services for our clients such as top of the line distribution process, freight & cargo storage, merchandise inspection, assembly, repackaging, and more utilizing advantages of Busan Port and designated FTZ(Free Trade Zone) Busan New Port soon to become next Northeast Asia hub port of the global logistics.
Busan New Port will overgrow Korea and Japan in near future, not only two Asian countries but to the world.
Satisfaction and confidence guaranteed, we try our best to provide most optimized and advanced logistic services for our clients.
We are together with you all the way from Busan Port to the world.
NH-SENKO LOGISTICS CO.,LTD.
CEO Fujiwara Shoki
NH-SENKO Logistics established
by tree of the best logistics companies
from Japan and Korea.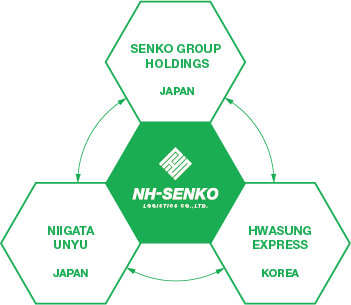 Senko Group Holdings, Japan


Logistics, Trading, Life Support, Agriculture, Business Support and various Business Developments. Fast international market expansion with 100 years of prominent business expertise as the leading global corporation in the field.
Niigata UNYU, Japan

"Silver Express Delivery" Business Leader and Total Freight Transportation Provider. Fast Transportation Services provided by 100 Branch Offices and National Network.
Hwa-Sung Express, Korea

Cargo Transportation Expert with Overland/Railroad/Sea Shipping affiliation. AEO Certified Excellence Company.
Address
NH-SENKO LOGISTICS CO.,LTD. 15, Sinhang 6-ro, Jinhae-gu, Changwon-si, Gyeongsangnam-do, Republic of Korea 51619
TEL / FAX
TEL : +82 (0)55-542-1005
FAX : +82 (0)55-542-7414
Customer Information
info@nh-senko.com